About us
Quality tractor trailer producer – Palmse Trailer
Palmse Metall OÜ is an Estonian-based manufacturer of quality agricultural trailers and tractor trailers for road construction, also the owner of the Palmse Trailer brand. Our products are well known and appreciated both in Scandinavia and in other parts of Europe. The model range of Palmse Trailer includes tipper, platform, grain transport, animal trailers, machine trailers and container trailers, in other words, multilifts. Trailer production began almost 20 years ago in Palmse, Lääne-Virumaa.
If in 2008 the production volume was lower due to the global economic crisis, since then the quantities and turnover of our trailers have continued to increase for years. Major events in between, such as the global corona crisis and the availability of heavy metals due to what is happening in Ukraine, have been only small bumps on the successful road, which have not affected us significantly, and we will soon surpass our achievements so far with an annual turnover of 10 million.
The total surface area of ​​the production complex, located on the border of Lahemaa National Park in Haljala municipality, is almost 10,000 m². We have been developing and expanding our production base year by year, and in addition to premises, we are constantly investing in our production capacity: from 2021, we will be the only trailer manufacturer in the nearby region, which will assemble both tipper trailer boxes and frames with a welding robot. This, in turn, ensures a highly stable weld quality that guarantees high durability.
Our products are characterized by a very good price-quality ratio, simplicity and functionality. We export 90% of our production to Scandinavia and other parts of Europe. Our trailers can be appreciated by both farmers and road builders in Finland, Sweden, Norway, the Baltic countries and Central Europe. You can also find our trailers in Iceland with a harsh climate. In the domestic market, in addition to distributors, we also offer our products ourselves – this distribution model ensures more direct contact with the end consumer and provides valuable feedback to production. The trailers are ordered by large agricultural companies, family farms and landowners. Among the various product groups, livestock and crop farmers, as well as road construction and utility companies can find a tractor trailer worth their while.
For 20 years, we have improved and expanded the model range to offer the best. Palmse Trailer – a high-quality tractor trailer brand.
We look forward to your feedback and price inquiries. You can find the contacts of our employees here!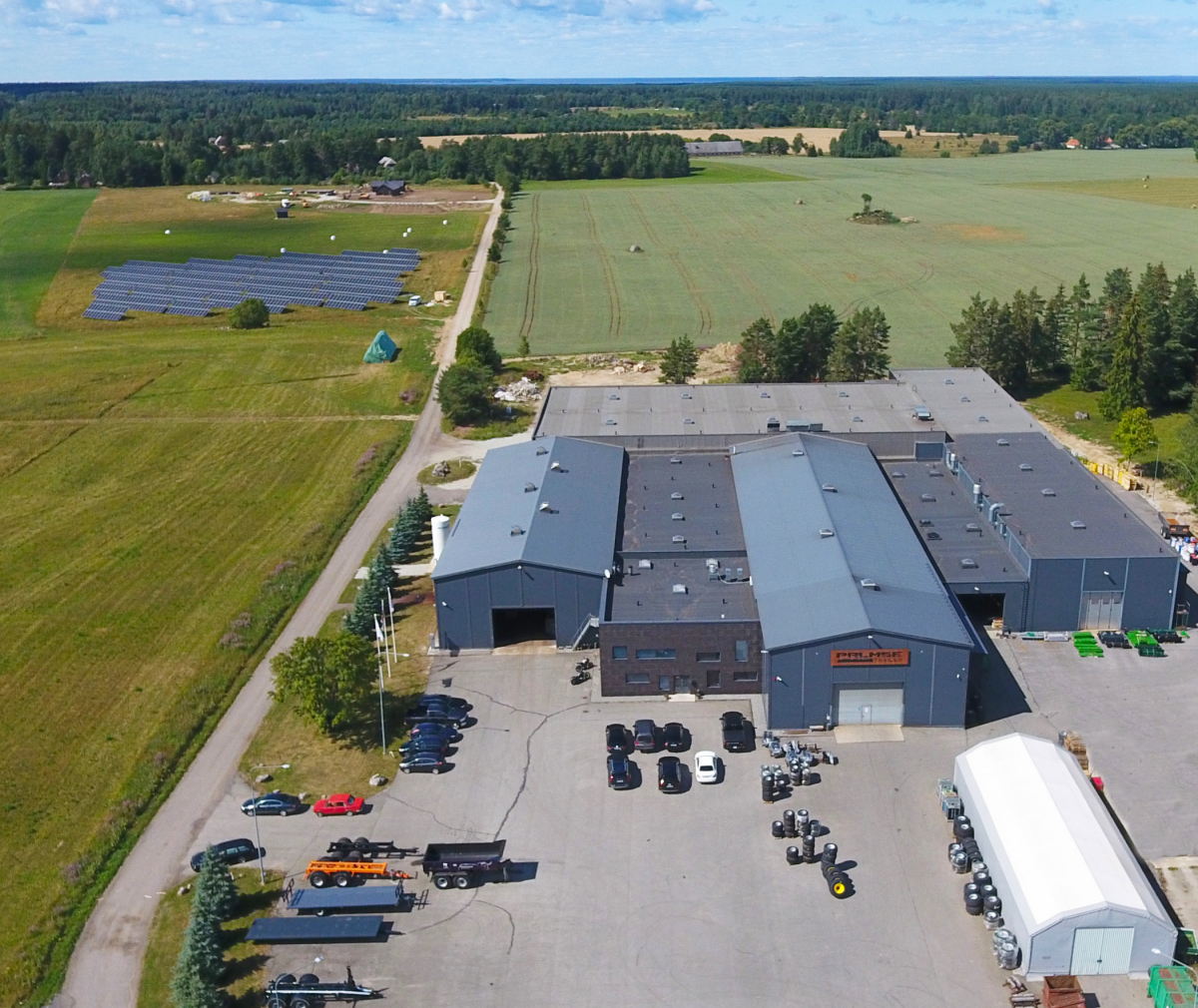 SUSTAINABILTY
At Palmse Trailer, we are committed to producing the best quality farming tractor trailers and machinery trailers. Our production area has been constantly growing over the years and needs a lot of energy, which is why in recent years we have been trying to find new ways to manage production more sustainably.
As a result of generating ideas, we came up with a more environmentally friendly solution: to create a solar panel park for Palmse Trailer. As for today, we are pleased to announce that we are able to use renewable energy from our own solar park. The power of the park is 500 kW and depending on the weather, it covers most of our electricity needs in production.
Saving electricity and developing new possibilities for sustainable lifestyle is an ongoing process. We find that there are still many unused opportunities in our company, but we plan to move forward with our activities in terms of sustainable consumption.
SPONSORSHIP
Our desire at Palmse Trailer is to give some of our success back to the community. That is why we have supported various projects, activities and sports to a greater or lesser extent for many years. For more than 10 years, we have sponsored the successful career of Peeter Pruus as a professional cyclist. His good results in prestigious international competitions have brought a lot of joy and fame.
In addition, since 2016 we have had a successful cooperation with various local basketball clubs in our county Lääne-Virumaa. This is largely due to Andres Sõber – a successful basketball coach and legendary sports enthusiast. He has been a great coach to the basketball team of Rakvere Tarvas for many years, which was also supported by Palmse Trailer. After the end of cooperation with this club, the legendary basketball coach Sõber moved to train another strong club in Lääne-Virumaa, which is Tere / Kadrina Karud. Thus, Palmse Trailer also joined the team of sponsors of the Estonian Championship club Kadrina Karud, led by Andres Sõber.
In 2022, we will also support youth basketball: Palmse Trailer is sponsoring the Rakvere Sports School's youth team in the U16 age group. The team plays in the Estonian Championship and Cup competitions as well as the European Youth League EYBL.
We try to contribute to the sports activities of local young people, because young people are our future and their healthy lifestyle must be at the top of the list of priorities.
Find a reseller