Palmse Trailer collects donations for Cancer Treatment Fund "Gifted Life" with a pink trailer
Agricultural trailer manufacturer Palmse Trailer painted a large tractor trailer pink to draw attention and raise awareness of supporting cancer treatment. For every purchase of the same pink trailer, Palmse Trailer donates 500 euros to the fund. At the countrylife fair "Maamess" in Tartu, Estonia 20-22 of April 2023, it is possible to see the pink trailer more closely.
Unfortunately, a part of Estonian cancer patients is left without government support for their disease, because for various reasons their medicines are not included in the list approved by the national health insurance fund. With the pink trailer, Palmse Trailer's intention is to bring the message to people that by donating money to the Cancer Foundation Kingitud Elu (Gifted Life), everyone can contribute to an activity that brings someone more days to live as a gift. Someone gets a new chance. At the same time, the company wants to pay attention to making donations as a lifestyle – helping others should not be an exception, but normality.
"Life is fragile, and with this campaign we are trying to encourage people to help others as well as to raise awareness about taking care of their health. Good habits are hard to come by, but they are easy to live with. Bad habits come easily, but they are hard to live with. We want people to think more often about how good it is to be grateful for every day we have been given," says Palmse Trailer board member Bert Sild. In addition to the one-time grant amount, the company donates 500 euros to the Cancer Foundation Kingitud Elu for every pink trailer purchased in Estonia.
"The Cancer Foundation Kingitud Elu has given hope and days of life to more than 2,000 Estonian people over the course of nine years. Not a single person in need of help from our target group has been left at the door. All this has been possible thanks to our supporters, who have just such a warm heart, will and desire to do good, as Palmse Trailer. With the pink trailer, the company gratefully shows the way and is an inspiration to other companies that can really change people's lives with their activities. Every euro counts, every contribution is important – drops become a sea, the sea an ocean. And finally, all cancer patients will receive the life-saving treatment they need ," says Toivo Tänavsuu, head of Cancer Foundation Kingitud Elu.
The pink tractor trailer will be visible to everyone at the Maamess from 20 to 22 April in Tartu, Estonia. In addition, the trailer will participate in the tractor parade at the opening of Farming life Week on April 18 in the center city of Tartu, Estonia. During the time of the fair, donation collectors from the Foundation will also stay near the trailer, so that every visitor can contribute to the charity.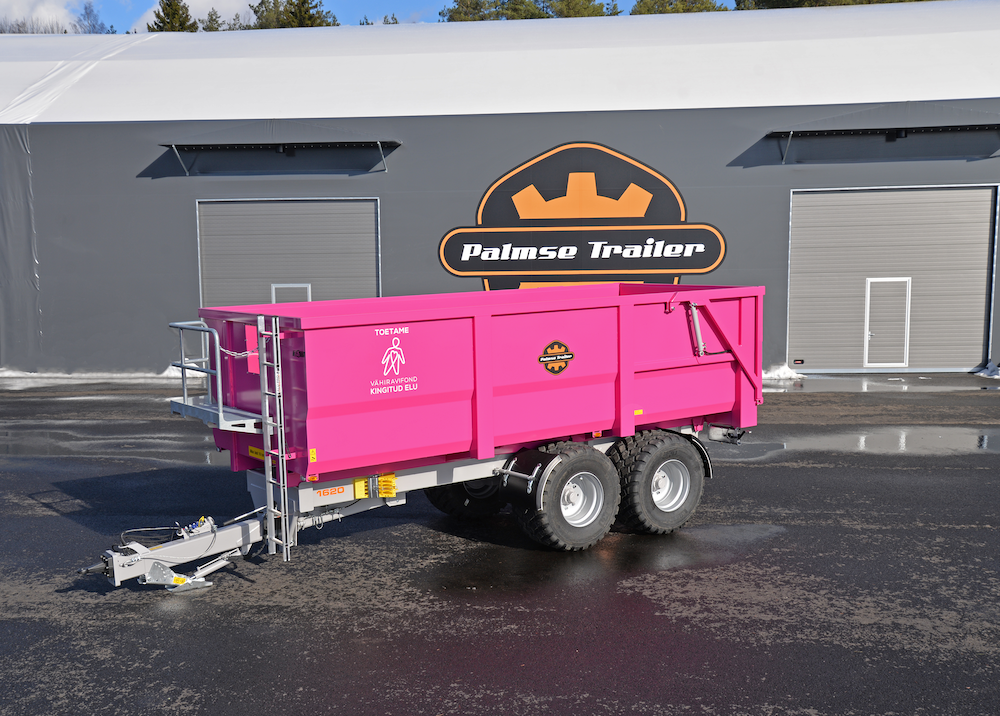 Find a reseller