PT4650 – strong cattle trailer
See comparison
| | |
| --- | --- |
| Length (mm) (with HSD01) | 8620 |
| Width (mm) | 2520 |
| Height (mm) | 2740 |
| Internal measurements of a platform (mm) | 6420x2260x2000 |
| Capacity (m3) | - |
| Capacity with extensions (m3) | - |
| Base (mm) | 5420+950 |
| Empty weight(kg) | 2460 |
| Max load capacity (kg) | 6000 |
| Total weight (kg) | 8460 |
| Hitch load (kg) | 1500 |
| Axel sum | 2 |
| Permissible axel load (kg) | 3480 |
| Hub/axel | 70x70, 6 bolts |
| Self steering axles | - |
| Brake type | 300x90; 0; 2 or 4 brakes |
| Speed limit (km/h) | 40 |
| Suspension | Mechanical bogie |
| Hydraulic circuit working pressure of a brake (bar) | 160 |
| Working pressure of hydraulic circuit (bar) | - |
| Oil volume for tipping(L) | - |
| Tilt cylinder | - |
| Standard wheels | 11,5/80-15,3 |
| Tilt angle | - |
| Thickness of box's bottom sheet(mm) | 4 |
| Thickness of box's side sheet(mm) | - |
| Rear axle block | - |
1.

GUARANTEED QUALITY – ISO 9001 CERTIFICATE

Recognition of our work processes and a firm guarantee of product quality of our tractor trailers in agriculture and road construction. Palmse Metall OÜ is a certified ISO 9001 company and we make sure that our trailers leave our production after they have been tested properly. You can read about ISO 9001 certification process and Bureau Veritas here. A solid choice, isn't it? 
2.

ASSEMBLY PRECISION ENSURES LONG LIFE – LASER CUTTING

The metal is cut with a modern Bystronic laser cutter, which significantly increases assembly accuracy of the tractor trailers. This in turn ensures a more stable quality and better durability for our products. So precise that you can feel the sharpness in the air! 
3.

EVEN STRONGER – LARGE PRESS BRAKE

Our press brake with large dimensions is among the largest in nearby countries. This gives the possibility to bend most of the side profiles in one piece, which in turn reduces the number of welds and increases strength. Here's how tractor trailer design can meet strength – the profiled side provides strength to reduce the number of posts in order to lower the final weight of the trailer. You can read about the Finnish company Aliko here. So this is how strong and high quality tractor trailers are made!
4.

A reliable partner – 20 years of experience

Tractor trailer models have been tested and developed over the years based on feedback from farmers to increase the ease of use and durability. We have put a lot into enhancing the details and bring in new solutions. Our tractor trailers are highly valued in Scandinavia and other European countries, and we give our best to hold our brand's reputation. Palmse Trailer works hard to be the best tractor trailer in agriculture world. If you have questions, please don't hesitate to contact our sales manager's, contacts are here!
ACCESSORIES
CATTLE TRAILERS
Palmse Trailer has both single- and double- axle trailers for transporting animals. In the form of the PT4650HS and PT4800HS,
we also offer single-axle trailers with hydraulic suspension. The length of the trailers is 4.3-8m. Depending on the safety requirements and ease of use, the animal transport box can be divided into 2 or 3 sections according to the model. The trailers are equipped with a removable PVC cover and front part of the trailers have an additional door. The floor is made of sheet metal, which is either ribbed or covered with a special non-slip material. Models without hydraulic suspension have a solid backdoor that is used as a ramp and is equipped with strong springs to make it easier to open and close; the same trailers
also have removable sides, end walls and a removable roof, which allows the trailers to be used for other work.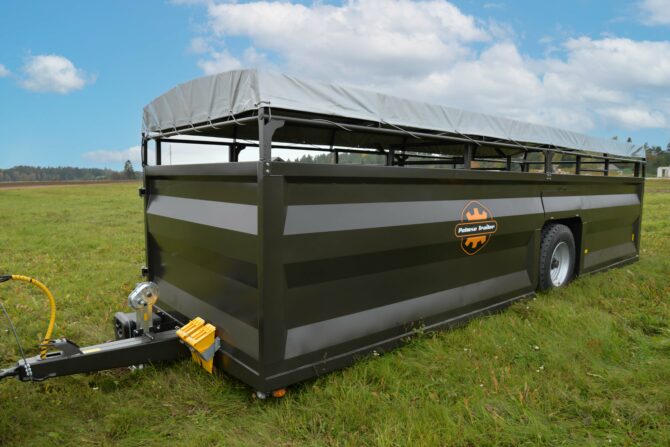 Find a reseller