PT3800 – quality hay trailer
See comparison
| | |
| --- | --- |
| Length (mm) (with HSD01) | 9785 |
| Width (mm) | 2460 / 2580** |
| Height (mm) | 1054 / 2060* / 2854** |
| Internal measurements of a platform (mm) | 8020x2460x1005*/ 1800** |
| Capacity (m3) | - |
| Capacity with extensions (m3) | - |
| Base (mm) | 6280+1050 |
| Empty weight(kg) | 2600* / 3391** |
| Max load capacity (kg) | 12000* / 11209** |
| Total weight (kg) | 14600 |
| Hitch load (kg) | 3000 |
| Axel sum | 2 |
| Permissible axel load (kg) | 5800 |
| Hub/axel | 80x80, 8 bolts |
| Self steering axles | - |
| Brake type | 300x90; 0; 2 or 4 brakes |
| Speed limit (km/h) | 40 |
| Suspension | Mechanical bogie |
| Hydraulic circuit working pressure of a brake (bar) | 160 |
| Working pressure of hydraulic circuit (bar) | - |
| Oil volume for tipping(L) | - |
| Tilt cylinder | - |
| Standard wheels | 500/50-17 |
| Tilt angle | - |
| Thickness of box's bottom sheet(mm) | 4 |
| Thickness of box's side sheet(mm) | - |
| Rear axle block | - |
3.

EVEN STRONGER – LARGE PRESS BRAKE

Our press brake with solid dimensions is among the largest in nearby countries. This gives the possibility to bend most of the side profiles of the boxes of tractor trailers in one piece, which in turn reduces the number of welds and increases strength. This makes the trailer lighter which in turn let's increase the max load capacity.
ACCESSORIES
PLATFORM TRAILERS
Our model range of platform trailers includes examples which have loading areas of between 6.5 to 9.8m. Trailers with a loading platform greater than 7.5m can be ordered with hydraulic bale holders. The hydraulic system for the bale holders is supplied by safety valves that prevent the support from falling downwards if the oil pressure is lost for some reason. Likewise, the use of safety valves also makes it possible to connect hydraulic hoses to the tractor when the system is under pressure. To reduce slipperiness, the platforms on these trailers are covered with corrugated steel plates, and there are no high edges. Due to this, goods can easily be loaded onto the trailer on euro pallets, for example. The construction of the axles makes it possible to mount wheels depending on the model with a width of 400-700 mm onto the trailers, thereby ensuring the best possible movement across fields. Double-axle trailers are available with bogie or spring axles, and these are designed so that the load is divided between the trailer and its drawbar. This transfers some of the load onto the rear wheels of the tractor, thereby guaranteeing better movement on softer ground. As a new product in the class of platform trailers, we offer a double-axle trailer with a higher load capacity, which is primarily intended for the transportation of silage rolls. Due to its load capacity of 19 tons, and hydraulic and extended sides, it can also be used for transporting straw rolls with a larger diameter (between 1.3 and 1.8 m). Starting from 2023 we are using new round design for bale holders.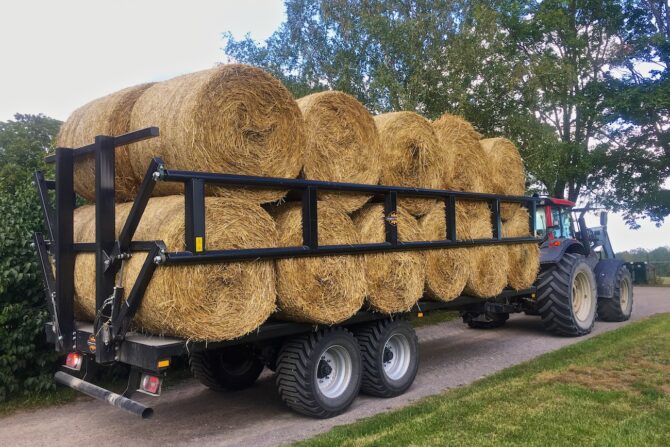 Find a reseller