PT1922L-SB
See comparison
| | |
| --- | --- |
| Length (mm) (with HSD01) | 7550 |
| Width (mm) | 2550 |
| Height (mm) | 3185 |
| Internal measurements of a platform (mm) | 5830x2310x1600 |
| Capacity (m3) | 21.6 (23.3) |
| Capacity with extensions (m3) | 33.7 (36.4) |
| Base (mm) | 4455+1480 |
| Empty weight(kg) | 5900 |
| Max load capacity (kg) | 19000 |
| Total weight (kg) | 24900 |
| Hitch load (kg) | 3500 |
| Axel sum | 2 |
| Permissible axel load (kg) | 10700 |
| Hub/axel | 100x100, 10 bolts |
| Self steering axles | - |
| Brake type | 406x120(412E), 4 brakes |
| Speed limit (km/h) | 40 |
| Suspension | Spring bogie |
| Hydraulic circuit working pressure of a brake (bar) | 160 |
| Working pressure of hydraulic circuit (bar) | 180-200 |
| Oil volume for tipping(L) | 30 |
| Tilt cylinder | 2NAS6 |
| Standard wheels | 600/50-22,5 |
| Tilt angle | 52 |
| Thickness of box's bottom sheet(mm) | 6 |
| Thickness of box's side sheet(mm) | 4 |
| Rear axle block | - |
1.

GREATER DURABILITY – ROBOT WELDING

Most boxes and frames of the dumpers and other tractor trailers are made either completely or partially by robot welding. This ensures consistent solid quality and increased durability which are very important features in agriculture and farming. We have three robots in our production, cool, right?
2.

GUARANTEED QUALITY – ISO 9001 CERTIFICATE

Recognition of our work processes and a firm guarantee of product quality of our tractor trailers in agriculture and road construction. Palmse Metall OÜ is a certified ISO 9001 company and we make sure that our trailers leave our production after they have been tested properly. You can read about ISO 9001 certification process and Bureau Veritas here. A solid choice, isn't it? 
Lisavarustus
DUMPER TRAILERS
Dumper trailers is the largest product group in the product range of Palmse Trailer. It has the highest number of variations or models as well as the greatest production capacity.
The advantage of dumper trailers over other trailer types is their versatility. Due to the different backdoors and additional extensions that are available, the product's uses are limitless, i.e. it can be used for various large-scale transportation works, such as those involving soil, manure, gravel, grain, etc. Dumper trailers that are equipped with Palms cranes are perfect for farmers as well as companies for loading work in landscaping, forestry, harvesting, etc.
The advantages of Palmse Trailer's dumper trailers are:
• strong box;
• durable bottom frame;
• dependable dumping system;
• bogie axle with springs that relieve heavy loads and hydraulic
drawbar suspension for larger models;
• air or hydraulic brake system, according to the client's preferences.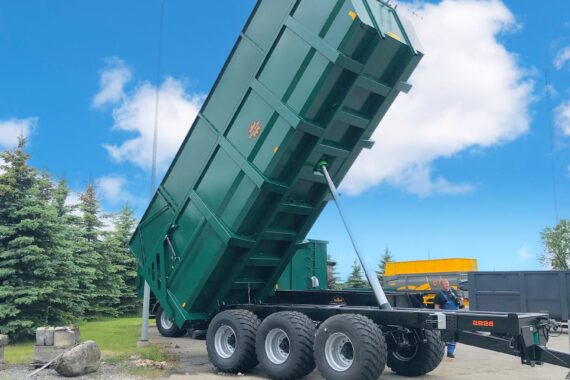 Find a reseller